Visit our Bakery!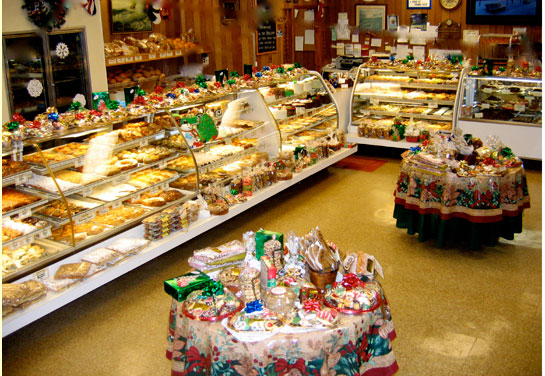 We offer hundreds of delicious baked items to choose from, all prepared on premises from only the finest ingredients! From Macaroons to custom cakes, we have it all. Scroll down to see a listing of all our bakery items. Don't forget you can send our delicious macaroons as a gift! Send some today.
Coconut Macaroons
Almond Macaroons
Extra-large coconut Macaroons
Chocolate-covered coconut Macaroons
Chocolate-covered almond Macaroons
Gluten-Free Layer Cakes
Chocolate/Chocolate (chocolate cake, fudge frosting)
Vanilla/Vanilla (yellow cake, vanilla buttercream)
Black and White (chocolate & yellow cakes, fudge filling, buttercream with chocolate swirl top)
Chocolate Hazelnut (chocolate cake, real hazelnut buttercream, chocolate shavings)
Coconut (yellow cake, coconut buttercream)
Chocolate Peanut Butter (chocolate cake, peanut butter and fudge)
Showcase Cakes
(available daily)
Hamburger Cake (3 layers, chocolate and yellow cake, chocolate fudge and vanilla buttercream)
At The Beach Cake (yellow and chocolate cake, chocolate fudge, vanilla buttercream)
Strawberry Shortcake real whipped cream
Hazelnut Cake (hazelnut cake, hazelnut buttercream, chocolate shavings)
Raspberry Torte (white cake, raspberry filling, chocolate ganache, macaroons)
Watermelon Cake (yellow cake, vanilla custard and strawberry fillings, vanilla buttercream)
Seven-Layer Slice (yellow cake, chocolate buttercream, chocolate fudge)
Carrot Cake
Boston Cream Pie (yellow cake, vanilla custard, chocolate fudge)
Frog Cake (chocolate cake, vanilla buttercream)
Raspberry Crumb Nut Ring
Dutch Fruit Ring (apple, cherry or blueberry)
Cheesecake (regular)
Cheesecake with Fruit
Marble Cake
Lemon Sponge Ring
Pineapple Upsidedown Mini's
7" Round Layer Cakes, avail. daily in our showcase(serves 10)

Yellow cake, vanilla buttercream
White cake, chocolate fudge frosting
Chocolate cake, chocolate fudge frosting
Chocolate cake, vanilla buttercream
Mocha buttercream, yellow or chocolate cake
3-layer yellow cake, lemon filling and lemon buttercream
Coconut buttercream, chocolate or yellow cake
Strawberry shortcake, real whipped cream
Custom Layer Cakes (call or come in to order)
7" round (serves 10) buttercream or fudge frosting (whipped cream not available in 7")
8" round (serves 16) buttercream or fudge frosting, whipped cream
10" round (serves 24) buttercream or fudge frosting, whipped cream
10" Hamburger
¼ Sheet (serves 30) buttercream or fudge frosting, whipped cream
½ Sheet (serves 60) buttercream or fudge frosting, whipped cream
Full-sheet Cake (serves 120) buttercream or fudge frosting, whipped cream
Choose your filling:
Buttercream
Chocolate Fudge
Chocolate Buttercream
Lemon Buttercream
Mocha Buttercream
Cherry Filling
Chocolate Custard
Vanilla Custard
Lemon Filling
Peach Filling
Pineapple Filling
Strawberry Filling
Blueberry Filling

Extra-charge fillings:
Whipped Cream (8" or larger only)
Chocolate Mousse (8" or larger only)
Raspberry Mousse (8" or larger only)
Cream Cheese
European Raspberry
Fresh Bananas
Fresh Strawberries (price varies)
10" Round not available
¼ Sheet
½ Sheet
Full Sheet
Your Photo on a Cake (buttercream only)
$7.00/picture (regular size)
Cookies

All baked from scratch right here!
Dozen Large (bagged) (sugar, oatmeal raisin, chocolate chip, sprinkle)
Butter Cookies – great selection!
Macaroons – coconut, almond, chocolate-covered
Chocolate-Covered Cookies

Chocolate Chip Cookies with peanut butter on top, covered in chocolate
Rumballs
Chocolate-Covered Oreos, Vienna Fingers, Nutterbutter
Chocolate-Covered Brownies
Chocolate-Covered Macaroons

Macaroon & Cookie Platters
Order your cookie platters any way you want - all macaroons, mixed macaroons and cookies, or all cookies.
We have a great selection of homemade butter cookies, mini-linzers, nut-batter cookies, filled cookies, and chocolate-covered favorites like Oreos, Vienna Fingers, and chocolate chip cookies with peanut butter.
Must call ahead to order cookie platters!
1 ½ lb. serves 8-10
2 lb. serves 10-12
3 lb. serves 15-18
4 lb. serves 20-24
5 lb. serves 25-30
Pastries
Almond Horn
Apple Crumb Square
Baklava
Black & White Cookie
Blueberry Scone
Brownies
Carrot Cake Square
Cheese Bear Claw
Cheese Cake Square
Croissant (plain)
Croissant (raspberry)
Crumb Bun
Crumb Cake Square
Cupcakes (regular)
Cookie Monster & Elmo
Frog
Danish
Danish Ring
Donuts

Glazed, cinnamon, powdered, chocolate
Jelly, cruller, custard

Dutch Fruit Ring
Éclair
Elephant Ear
Fruit Pocket
Frog Cupcake
Key Lime Tart
Lemon Sponge Ring
Linzer Tart
Lemon Square
Macaroons
Marble Cake
Muffin
Napoleon
Oatmeal Cookie Pie (vanilla buttercream)
Pineapple Upside-down Mini's
Raspberry Croissant
Raspberry Crumb Nut Ring
Sticky Bun
Tea Biscuit w/ raisins
Turnover
Trolley Bun
Pies 6", 8" & 10"
Assorted fruit and other pies available daily. We are the only bakery that offers delicious pies in a 6" size – perfect for one or two people!
Apple
Blueberry
Cherry
Strawberry-Rhubarb lattice crust
Peach lattice crust
We also have:
Real Key Lime Pie (9" only)
Real Key Lime Tarts
Lemon Meringue Pie – Best you ever had!
Seasonal Pies - like Pecan, Pumpkin, & Coconut Custard
Call ahead to order our fresh banana, chocolate and coconut cream pies (8" only).
Breads and Rolls
White Bread
Rye Bread
6 Grain Bread
Irish Soda Bread
Dinner Rolls (dz)
Croissants
Mini-Croissants (dz)
Hard Rolls and Sandwich Rolls
Buttered Roll